Washington giving back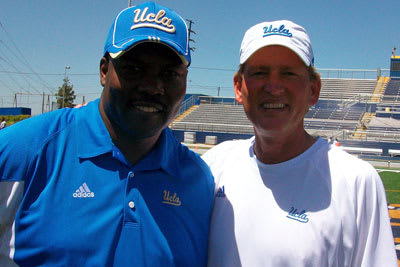 If you saw the smiles from the kids who participated on Saturday, then you know a lot of good was being returned and a lot of dreams by young people were being formed.
Washington comments on the genesis of Shelter 37.
"Shelter 37 started after Super Bowl 27, I think it was," Washington said. "It started at first dealing with the homeless trying to find shelter.
"I had a homeless shelter down on Western and the earthquake came (January 1994)," Washington said. "My building was red tagged and some other things happened.
"Mark Ridley Thomas was the councilman at the time," Washington said. "He had to shut that project down. So it moved on from the homeless to dealing with youth, which I always had a passion for even when I was at UCLA.
"I had an organization while I was a student at UCLA called Athletes for Life," Washington said. "It was a program that focused on getting Reggie Miller, myself and all the guys that played -- Ken Norton Jr., Gaston Green -- to come together and to go out and speak to the schools.
"It was a very successful program during that time," Washington said. "We had the basketball players and the football players from UCLA going back in the community.
"After UCLA I went onto the pros and had that life, but I always had passion," Washington said. "The person who is the athletic director here at Los Angeles Southwest College, Henry Washington, was my high school coach and my God Dad, not my true father, but my God Dad and he said we should do some things and bring it back to the community.
"We started out doing camps just for kids in the community," Washington said. "Shelter 37 had a program called Chance for Life that is a 24-week curriculum that we have taught in the juvenile system, Nullis, Norwalk and Gonzales, at these three juvenile systems where we taught this particular program. It is life-living skills.
"So when you think about Shelter 37, it is a shelter of a variety of different programs that actually deals with life-changing people, whether it be the shelter, may it be reaching out in the community with the at-risk programs.
"This particular event here (Youth Camp at Los Angeles Southwest College) was started roughly five years ago under Karl Dorrell, and I was wondering would it last when he was released. Not only has it lasted, but it has grown, as you can see.
"We started using one field, and now we are using two," Washington said. "We have kids from all over. Even though we are trying to have an inner-city camp, we have kids from all over with different cultures, different races; it doesn't matter, everybody is welcome and we don't turn away any kids.
"It is a wonderful feeling to have a dream and to actually live it and see it come true is very gratifying," Washington said. "Then having all the great people jumping in to help…"
Washington is very grateful that his UCLA family has come to the table to lend a hand and have supported the camp since its inception.
"Rick (Neuheisel) went into the stands and thanked every parent personally for coming out. He then went over to the second field and walked along the sidelines and thanked every parent, friend and all who attended, he said thank you.
"I would also like to thank the parent team (UCLA players' moms) who helped with registration," Washington said. "The support has been amazing. Honestly it makes me want to sit back and cry because you finally have a feeling of people making it happen. The coaches, the volunteers and the people in the community all getting involved.
What a lot of people don't know, and this goes back to the fact that Washington doen't toot his own horn, but he funds most of all of these outstanding and worthwhile programs himself with help from a couple of organizations that chip in.
Farmer John's supplies the hotdogs so the campers can get fed, and other originations supply products.
If anyone is so inclined, they can help by logging onto Shelter 37.com and donating anything that they can afford.
When Washington isn't busy giving back to the community, he's busy on his new job that once again helps people.
"A lot of people were trying to figure out whether I was going to go into coaching," Washington said. "I do have a passion for coaching and I do love my program, but when you are making decisions in life, you have to make a decision on how you can have the biggest impact.
"How can you have the biggest impact? And if anyone knows anything about James Washington, I like to do things big," Washington said. "Like we did it in Texas, we just did it big. We won championships.
"I now have a new position, the assistant director of alumni giving over scholarships and scholarship initiatives," Washington said. "Because of the budget cuts at UCLA, they went out and said we need to start raising money for scholarships, more like a private institution.
"The government gives UCLA nine percent of its budget," Washington said. "The rest of it, UCLA has to go figure out how to make it happen.
"Somebody decided that we needed to start raising scholarships just like the private schools do, and they created a position for me," Washington said. "I think it is more rewarding for me than just coaching the defensive backs.
"Yes, I get my 10 to 15 guys to work with as a defensive backs coach, but with my position, I am campus wide," Washington said. "I'm not just athletics, and I'm able to raise money, not just for scholarships, but for the entire school, and it is a wonderful feeling.
"My job at UCLA falls in line with everything that God has given me," Washington said. "Whatever popularity there is for me, I want to use to be able to help others. That's what this scholarship awarding is allowing me to do. To come home and do something like this has been magnificent for me personally."
If you are so inclined to help Washington in this venture by helping future Bruins, you can contact him at his office at 310-983-1457 or on his office cell at 310-888-8793.
"From one dollar to a million dollars, whatever category you fall in," Washington said. "You can contact James Washington."
It's not just athletes that are getting much needed help, but all students.
"It was amazing because my first major gift, you would think it would be to the athletic department and I'm going to give gifts there," Washington said. "The first major gift was in the engineering department. Somebody gave a major gift because they want to give a scholarship to a kid, who was a well-rounded kid, and my first gift is going to be in the engineering department."