Dorrell meets the press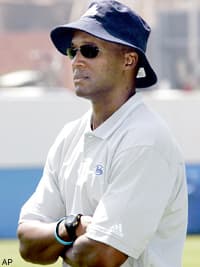 UCLA coach
Karl Dorrell
met with media after Saturday's scrimmage. Coach Dorrell was neither too high nor too low. He was pleased by the play of the defense and what they were able to accomplish during the day. For anyone in attendance there is a noticeable difference. Even the media was talking about the change. The following is Dorrell's meeting the media after the scrimmage.
Dorrell: "The defense did a nice job today keeping the offense out of the end zone and getting off the field quickly, those types of things that you want a good defense to do."
"Offensively we had a little bit of a rough start, but then started to getting in rhythm and making some plays. We ran the ball okay and threw the ball okay."
"It wasn't the best of scrimmages, but it was pretty competitive and I think that is a good sign, at least for our defensive progress that we have made so far this spring."
"I do see a lot of competitive effort on both sides and that's one of the determinations I want to get done this spring is letting these guys come and compete, get after each other and we've been able to do that, but we still have a lot of work to do though, that's the thing. But it is the beginning of March and we have a long process between now and August to get ourselves to be the team we think we can be."
Everybody is curious about Ben Olson, how did do during the scrimmage in your eyes?
Dorrell: "Just okay, I didn't think anything really stood out in either's case. With Ben he was holding the ball a little too long and was putting himself in bad situations in the pocket. He can continue to work and get himself on rhythm and that's the plan."
"
Patrick Cowan
looked good early then threw a couple of picks, too so both of them did some good things and both of them made some mistakes."
"We're still growing at that position, both those guys have had a very good winter drill session. Both have done some really good things, but we are still making some mistakes that we need to get better at."
Specifically what are some of the things you are looking to improve on here on out?
Dorrell: "Well, we're new in a lot of areas. The offensive line has a lot of young players and new players that are playing and there are interchangeable so there's some frustration there getting everybody on the same page and that is understandable at this point because you don't have your five, you don't have your top five linemen that have had that continuity to work together. That will be developed later the rest of the spring and during summer."
"Defensively the same thing, we're missing most of our starters on the defensive line. Granted that we have had some success today from some pretty good players that really aren't being counted on as much in terms of starters, they have done a nice job this spring, particularly today."
"There's a lot of stuff we can improve on, but I am encouraged with the effort and the attitude that we have been able to display almost every practice so far this spring,"
"The players are out there working hard trying to do the right thing and we're trying to coach the right things"
"The coaching staff has to get caught up with the new guys. There is just a lot for us to do. We will be busy this spring."
You guys put the ball on the ground four or five times today especially on the punt game?
Dorrell:
"It was our first time doing any of our special teams and I wanted to see what we can do. Particularly with not giving
Aaron Perez
any reps at all in terms of live stuff and then just to see who could protect so it was really evaluating the punt team more so than the punt return team. We didn't have a scheme in for punt return so I kept telling the return men not to return it because we were just trying to work on coverage and things like that."
"There is definitely a lot of work to do with new coaches and new players playing in certain areas so we have to get ourselves caught up and coached up and get ourselves ready for the fall."
Dorrell: "He has a knee injury. They don't know exactly what it is, that's why they put him in a brace. They're thinking it is medial collateral and not his ACL. Hopefully it is not anything too significant."
There is a couple of days left but have you seen enough of where Ben (Olson) goes into August as the No. 1 guy?
Dorrell: "I reserve the right not to answer that question (laughter by everyone). I think that position is really competitive. Is he clear cut? No. I'll answer that."
"I think both those guys have a lot to add to this table and Pat (Cowan) has done enough this spring where he has warranted more action in terms of legitimate action to be the guy and Ben has done well but he's not clearly out front so I think that position is still up for competition, like most positions."
How impressed were you in Pat (Cowan) being the team guy out there congratulating guys after plays and being vocal?
Dorrell: "We always like when a lot of those guys do that showing some leadership and Pat is just like a lot of the guys who have tried to step up and do those types of things."
"You want more players to be able to rally a team, offensively and defensively to do some things positively for the football team so I'm glad that he's doing it."
Dorrell: "It is good to see him healthy. That's one thing. He's had a really good spring and you can tell that he brings a different level of passion to the safety position. So it is fun to have him back."