Four-star JUCO OL commits to UCLA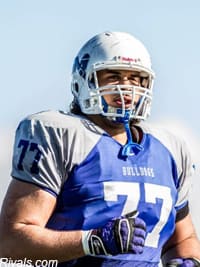 Alabama was
Dominick Jackson
's dream school, more or less. He constantly compared himself to Tennessee Titan-bound OL
Chance Warmack
, and had envisioned playing for 'Bama since he was old enough to have that dream.
But Jackson met Klemm one day this past spring, picked up an offer from UCLA's OL coach, and was immediately hooked.
Forget Alabama, Jackson said, he wanted to play for Klemm and UCLA.
"Coach Klemm, he was in New England for all three of their Super Bowl championships," the four-star guard said in an interview earlier this month. "He played for the Green Bay Packers; the man knows the game inside and out. It's not about their record or this and that, it's about who my coach knows, how's he going to help me get to the next level and just how much knowledge does the coach have about the game pretty much."
Jackson, a 6-foot-7, 304-pound OL from College of San Mateo, committed to Klemm and the Bruins earlier this week, making his commitment public Wednesday morning.
And it's a big get for UCLA. First, consider Jackson's offer sheet: Alabama, USC, Arkansas, Florida, Oregon, Missouri and oh-so-many more.
Second, consider this: The consensus among scouts and coaches in the recruiting world is Jackson may be the best JUCO prospect in the nation, regardless of position.