Mora: So-called tradition stops here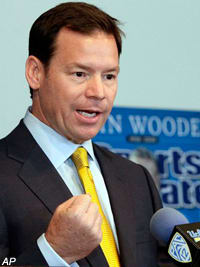 If there's one thing pro coaches always rave about when they return to the college ranks, it's the long-time school traditions that can define a program for generations.
Jim L. Mora found out about the first one at UCLA - where seniors "go over the wall" to skip a day of practice - and he's not happy about it. In fact, he made it very clear it's one tradition that will stop the day he starts.
"It's completely unacceptable and it will not be part of the program going forward," he said. "It's a privilege, not a right to play football for the UCLA Bruins. With the commitment you make when you sign on to play here, comes a commit to do what's asked of you by your coaches on a daily basis. I can just tell you, in no uncertain terms, that that tradition will no longer be a part of tradition going forward."
The incident took place Tuesday morning.
After stretching at Spaulding Field, a group of players - led by seniors - climbed over the south wall and skipped practice. The "tradition" apparently dates back to the 1980s.
UCLA is preparing to face Illinois in the Kraft Fight Hunger Bowl in San Francisco on Dec. 31. Mora, who will not take over the team until Jan. 9, said changing off-the-field attitudes will be a key to gaining on-the-field success.
"[Athletic director] Dan Guerrero and I have spoken about it, and we both agree that the culture of UCLA football needs to change as part of the interview process," he said. "We're going to do all we can to make sure we change it.
"When I talked to Dan at the beginning of the interview process, we talked about things like traditions. There are some very proud traditions we certainly want to honor, but skipping out on practice is not one of those proud traditions."
The irony is that UCLA had to petition the NCAA to get its bowl bid (it finished with a losing record after the school lost in the inaugural Pac-12 title game). Aside from the pageantry of playing in a bowl game, most coaches cite the extra practice you're allowed to have as a primary benefit.
That UCLA players would ditch the extra work is perplexing to Mora.
"I'm not about making threats, and I'll keep that between the players and myself, but I can tell you that my general feeling is that if they feel they want to skip out of practice and jump over a wall, then they might as well just keep going," he said. "They're not a part of what I want to be a part of."

Click
Here
to view this Link.Mora was glad to see not all of the players - and not all of the seniors - participated. And that the ones who stayed behind were angry with their teammates.
"They should all be angry about it," he said. "The kind of players who are going to fill this roster from now on are guys who would be angry about it. Who wouldn't let it happen. Who would put a stop to it before it happened. Those are the kinds of guys we want at UCLA."
UCLA, long a power in basketball, has been up and down on the football field.
Lately, the school has been down - especially against its hated cross-town rival, Southern Cal.
UCLA, which beat USC eight times in the 1990s, has only defeated its rival once since 1998. It lost this year's game, 50-0.
Now that's tradition Mora would really like to end.