UCLA lands three-star ATH late Wednesday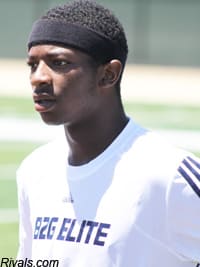 He'd go to bed, stare at the ceiling and ponder his future until his alarm clock rang hours later.
On Wednesday night, though, sleep will finally come easy for the Los Angeles (Calif.) Crenshaw star.
The commitment is over.
He's a Bruin.
"I couldn't get any rest," Johnson said. "There was so much on my mind. Now that I've finally got the commit off my mind, I can probably find some sleep for a good eight hours."
Yarber's reaction?
"I think I made his day," Johnson said. "At night - I think it's safe to say I made his day."
For Johnson, it really doesn't matter as long as he's wearing the blue and gold.
"It doesn't matter where they're going to put me," Johnson said. "They said I can be a threat on each side of the ball. That's all that matters."
Johnson is a 6-foot-1, 170-pound two-way player who landed a Bruin offer from Yarber and UCLA just seven days ago after turning in an impressive start to his senior season. He said after that offer came that he'd still like to wait until Signing Day to make the call, but he grew too impatient, and finally popped the verbal late Wednesday.
"I like that it's close to home," Johnson said of UCLA. "I have a feeling if I go there, I can get a lot of run. That's what I'm really looking for. I'm looking for a school where I can just get a good amount of play. No favoritism, I'm able to play on the field."
Johnson said he's not sure of any visits just yet, even his official to UCLA, but what he knows for sure is he's a Bruin now.
"Right now, I'm a Bruin," Johnson said. "I just committed and I just want to play football for Crenshaw High now."