UCLA recruits find their hand signal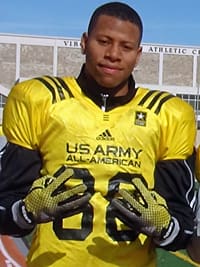 USC has one. So does Arizona State. So do Oregon and Utah.
But UCLA, historically, has never quite been able to come up with a hand signal for its recruits, players, coaches and fans to throw up.
"Me and coach Meat were talking about it," Wadood said. "And we were talking about how a kid asked him, 'Why doesn't UCLA have a sign to throw up?'"
It didn't take long for Wadood and Martin to come up with a signal that suits the Bruins.
"We figured we'd throw up eight fingers for the 8 Clap," Wadood said.
So that's the signal now. And everybody is already buying into it.
The sign has been well received by many more of Wadood's peers. So much so, he said there were never any other signal ideas tossed around.